I will guide you and to create the beautiful ceremony to Renew the Vows you've given to each other some time ago. It is a wonderful way to appreciate your relationship, especially a wedding anniversary.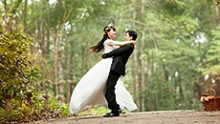 This ceremony could be a substitute for the engagement party, or, the public acknowledgement of a couple's love, if they do not wish to get married right now. The guests, family and friends could participate in the ceremony. There are no rules and structure to it. The only important is to make it really special and memorable event.
They are an opportunity to celebrate a significant time in a person's life, such as 18 or 21 Birthdays, or milestones of '40', '50','60', etc., wedding anniversaries or, some really funny events, such as Dogs/Cats/Pets Birthdays parties or Weddings. You just need to think outside the square!
In that difficult time when you lose someone close to you, it could be hard to put the thoughts and feelings into the words. I have a training and experience to assist the family in that emotional time to place the tribute and show how unique and special was the loved one they lost.
Using my professionalism and experience, I will assist family and design the Farewell ceremony, which remember and celebrate the life of the person, dear to their hearts.
The memorial service could be performed in Russian, English or in both languages.